Jet Chef Full Combi Microwave Oven in Anthracite JT 369 MIR
Size:

487

x

377

x

541

mm
|
JT 369 MIR - 858736915990
|
£275.00
VAT inc.
£329.99
-17%
Antracite
Technical Specifications
This Whirlpool Jet Chef Full Combi Microwave offers a variety of cooking functions, including Grill, Fry, Defrost, and Steam, to help you make the most of your cooking experience, hassle-free. With the unique Crisp plate system, you'll enjoy delicious pizzas, pies or quiches, always. The innovative 6th SENSE technology dynamically adapts cooking time and power, providing ideal cooking results, always.
TECHNICAL DETAILS
Height of the packed product
443
Depth of the packed product
595
Connection rating (W)
2200
Height of the product
377
Construction Type
Free-standing
Width of the packed product
563
MAIN FEATURES
Additional cooking method Conventional
No
Type of control
Electronic
Additional cooking method Fan cooking
Yes
Turntable diameter (mm)
360
Maximum micro-wave power (W)
1000
Type of micro-wave oven
MW-Combi
Additional cooking method Grill
Yes
Accessories
From cleaning products to spare components and add-ons, Whirlpool has all you need to ensure ideal appliance care. Explore our accessories, and find the perfect one for you.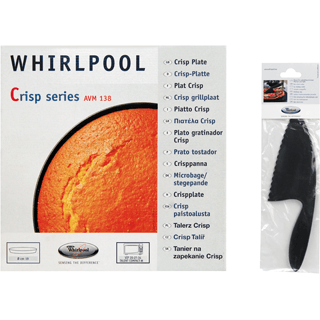 This crisp plate provides fast and easy preparation of lots of dishes. Due to its high edges. it is ideal for cakes and souffles.


£23.48 VAT inc.
To be used only with Whirlpool microwave ovens with crisp function. This crisp plate provides a fast and easy preparation of most common dishes.

£19.99 VAT inc.